Where does the time go?
So much has been going on that I haven't had time to post. You'll read all about it in Pepper, the Viking & the Pillaged Grave which will be available early summer. Not sure if it will be a pre-order yet, but I'll keep you posted.
You won't believe what's been going on in Willow Lake. I can't wait for you to browse a new shop on Main Street, Yesterday's Treasures, and meet the owner… Kate Meadows. I think it might be love at first sight for my brother Josh, but you never know. 
Amy is upset because her dad has turned up after leaving her and her mom when she was six years old. Does she reestablish a relationship with him or tell him she's not interested? A hard decision for sure. 
Ian and I are doing fabulous working together on solving mysteries and working on our budding, actually blossoming, relationship. He's a dream come true and sometimes I fear waking up from the dream. Oh, and wait until you find what my mom's up to. We're all shocked though not as  much as my dad.
Time for a prepper tip… multi-pocket vest.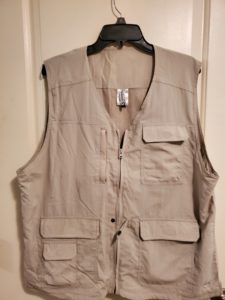 A multi-pocket vest is a  must have for not just a prepper but for anyone. It comes in handy in so many different ways. I wear one when I garden stuffing the pockets with a number of things… extra gloves since I constantly forget where I last put them, rooting powder, light shears, garden tape, sunscreen, and more. I also use it for a brief walk in the woods. I fill it with the few things I might need, snacks being a must. I also keep a vest strictly for fishing since it's always set to grab and go. The vest is also great for a quick trip to my herb garden to cut some herbs for a meal. I just fill the many pockets with what I want. A trip to the store with my multi-pocket vest holds my wallet, sunglasses, tissues, and keys. It leaves me free to shop without worrying about a purse or a wallet. If crafting is your thing, just think of how helpful multi-pockets could be for having things right on you. And don't even get me started on how handy it is when you travel.
The possibilities are endless with a multi-pocket vest.
There's all different types of multi-vests available from inexpensive to expensive. I suggest you search for one that suits your needs. Amazon has a bunch to choose from and you can find them at sporting good stores, or travel gear sites. Pop multi-pocket vests in your search engine and you'll be surprised at the places that carry them.
More tips coming soon and more news about what's going on in Willow Lake.
Until next time… stayed prepped & prepared!
Pepper