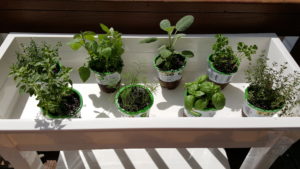 It may be winter with snow on the ground, but I have herbs on my mind.
I grow an array of herbs, drying and storing some, and potting some favorites to winter on my kitchen windowsill. I love being able to snip off fresh leaves to cook with or to take a basil or mint leaf to squish between my fingers, releasing a lovely scent. And a fresh stem of rosemary can add wonderful flavor to most any dish and a delicious scent to the kitchen.
I grow some of my herbs in pots on my back deck. This way I have what I use most just a step away. I keep two types of chives there, regular chives and garlic chives. Parsley is another must, curly and flat. Basil gets its own pot as well, though I grow more in my garden since I'm a basil lover. Mint also goes in a large pot. I don't keep mint in the ground because it would take over everything. Besides I love mint in my iced tea and having it outside my door is so convenient.
Other herbs I grow are… sage, lemon balm, dill, oregano, (various types), thyme (various types as well, though I favor lemon thyme).
I plan my herb garden around what herbs I use the most and each year I give a new herb a try. That's how sage made its way onto my yearly grow list. I gave it a try and it added such great flavor to several meals and, of course, it is a must have at Thanksgiving. It has become a fast favorite.
If you have never grown herbs start with one or two so you don't overwhelm yourself. A pot or two on a sunny windowsill may be all you need and use. Though once you start growing them, it can easily get out of hand just like houseplants.
I dry and store throughout the growing season so by the last harvest I have plenty of herbs to store. Dried herbs don't go bad. They lose their potency and flavor. A good sniff will let you know when it's time to replace them.
If you want to try growing a couple of herbs, I'd start with chives and mint. They are easy to grow in a pot on a windowsill. In the ground, mint spreads fast so be careful where you plant it. Both plants return each year and, like anything, will flourish with care.
If you're looking to grow more herbs, here's 8 I recommend.
Chives
Basil
Dill
Parsley
Mint
Rosemary
Thyme
Oregano
For your bookshelf… a list of a few books you may find helpful when it comes to growing and learning about herbs.
The Herb Book, John Lust
Herb Gardening for Beginners, Marc Thoma
Homegrown Herbs: A Complete Guide to Growing, Using, and Enjoying More than 100 Herbs, Tammi Hartung
Alchemy of Herbs, Rosalee De La Foret
Landscaping with Herbs
Until next time, remember… stay prepped & prepared!
Pepper
**I receive no compensation for any items I recommend here.