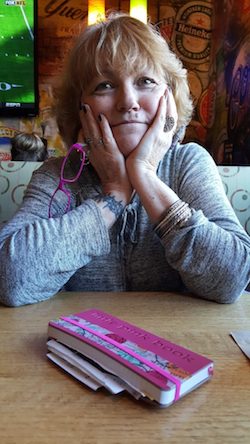 Meet the woman who brought me to life…
Donna Fletcher is a USA Today Bestselling Author. She started her career over thirty years ago in traditional publishing and has written for three major NYC publishing houses. She has written over fifty books, predominately historical romances. She turned to Indie publishing several years ago and now writes mostly Scottish historical romance with more than a touch of mystery.
Donna loves combining romance and mystery, so it was only logical for her to combine her two loves and add a touch of humor to it.
This is where I come in… Pepper the prepper. I mean who wouldn't love a prepper and a hunky Highlander cover model who love solving mysteries and can't help falling in love? Donna used her experience when she lost most everything to Hurricane Sandy to help create me. She fiddled around with me for a while before bringing me fully to life.
Donna is like me… loves her animals. She has a super smart German shepherd named Cree (named after one of her memorable heroes) and then there's Sweetie, a stray cat who has made her home on Donna's property and enjoys sitting outside with her as long as Cree isn't around. He's not a lover of cats. But not to worry, Sweetie has her own little house Donna's son built for her to keep her safe.
Donna makes her home on the Jersey Shore in an old Cape Cod house that she works on in between spending time with family (pssst… she's a twin) and friends, writing, decorating, gardening, reading, watching old movies, cooking, (she loves to collect old cookbooks) and whatever else catches her interest. Oh, you can also find her at bookstores, flea markets, antique shops, where she will roam for hours.
Now that you know all about Donna, it's time to meet me. Grab a copy of the first book in the series, Pepper, The Highlander & The Dead Guy and visit with me and everyone in Willow Lake, PA.