I'm happy to announce that book 2 in the Pepper the Prepper Mystery Series, Pepper, the Viking & the Pillaged Grave will be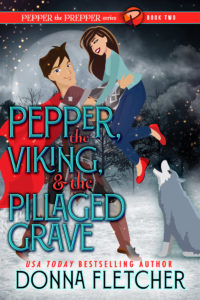 available in early June.
I'm having the grandest time with Pep, Ian, family, and friends as they try to solve another murder, a 35-year-old one, while Pep and Ian navigate their new relationship. Not to mention what's going on between Pep's best friend, Amy, and that gorgeous cover model Beau.
Also, if you thought Pep had found all what her Aunt Effie had left behind for her to read, then think again. Her aunt loved to write herself notes and leave them tucked between the pages of a book, or wherever she happened to leave them. Unfortunately, she didn't quite finish all the notes she wrote, interrupted by who-knew-what all those years ago. So, what could the unfinished notes mean?
I'm excited for you to read the second Pepper book. Look for more updates in Pepper's monthly newsletter, including info on Willow Lake, PA, and prepper tips.
Hugs
Donna