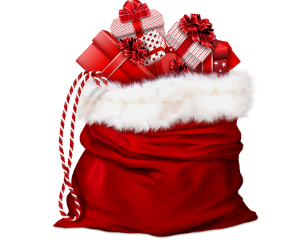 Prepper or not some of these gifts come in handy for anyone.
It's early November and before you know it Christmas will be upon us. With possible delays in deliveries or shortage of goods I decided to post a holiday gift list for preppers now, so you have time to shop. Some would make great stocking stuffers.
Have a look and hope you find something for someone on your list.
Amazon: Triangular Bandana/Cravat. 100% bright orange polyester construction with printed black survival information including: Navigation, Fire Starting, Shelter, Water Collection & Purification, Signaling, a useful Knots section, and a section for Priorities considerations. May be used for a variety of first aid applications including: signaling; as a splint/tourniquet; foot or knee wrap; sling; face, neck, or head protection; dust mask; or for water collection – sweat, dew or collection from stills. Measures 39″ x 39″ x 52″. Also includes two 2″ safety pins.
Emergency Sleeping Bag & Tent Shelter
Amazon: PERFECT ULTRA LIGHTWEIGHT GIFT TO GIVE FOR CHRISTMAS: Both the sleeping bag and the tent come in their own durable waterproof stuff sack so you can store it anywhere. They also come with a convenient carabiner clip to clip on to any bag. Throw these in the glove compartment in case a winter storm finds you trapped in your car for the night. You can also keep them in your emergency shelter at home! 
A must have in your backpack, car, camping, etc. A great gift for anyone!
This is only one of many I have. Search around and see what one works best for you.
Emergency Survival Backpack Kit
There are plenty survival backpacks to choose from, so see which one is the best fit for the person you're buying it for or for yourself.
Survival Frog Tact Bivvy 2.0 Emergency Sleeping Bag
Amazon: MADE FOR EMERGENCIES: The bright orange color of this light weight sleeping bag cover helps rescuers identify you with ease. Plus, the HeatEcho material reflects 90% of your body's heat back to you, making it an essential survival tool and addition to your bug out bag, emergency shelter, camping gear or car emergency kit. Survival Frog Tact Bivvy 2.0 Emergency Sleeping Bag
Rain ponchos are great for camping, outdoor outings, hiking, sports events, and amusement parks to keep your clothes dry. These are for adults but you can get packs for adults and children. A good stocking stuffer gift.
Amazon: The Glow Mind lights sticks are the perfect choice for emergency preparedness and survivalists. They provide 360 degrees of bright light, are easy to store and have a long shelf life. Another good stocking stuffer gift.
Amazon: The led beanie is best for go fishing, ski, Auto Repair, Jogging, Walking the dog, Working on the car or Handyman Working Hunting, Camping, Grilling, Running, hiking, construction or just for fun, great for being active at night.
Amazon: Ages 6 and Up – DinoBryte is perfect for children aged 6-year-old and older. A great way for your Jurassic adventurer to get outside and explore or stay inside and use as a fun T Rex reading light.
Survival Food Supply
I think it is wise to keep at least one freeze-dried survival food kit on hand. I have both ReadyWise and Legacy ones. It makes a good gift for anyone who wants to be prepared. 
Prepper's Natural Medicine: Life-Saving Herbs, Essential Oils and Natural Remedies for when There is No Doctor
Amazon: Learn how to treat naturally any ailment naturally with holistic techniques in order to keep yourself and your loved ones safe when disaster cuts you off from doctors, hospitals and medicine. One of many type books that a prepper would enjoy.
Be a wise shopper! Check around for better prices and deals other retailers may be having for the holidays.
Also check out last year's post Holiday Gifts That Keep You Prepped & Prepared, for more gift ideas.
That's it for now but check back now and again since I will add more along the way! And watch for news on the next Pepper the Prepper Mystery!
Until then… stay prepped & prepared!
Pepper
FYI: I do not receive any compensation for merchandise mentioned here.